I remember some nice helpers from my Windows days and they insisted on visiting me here!
You might recognize them too... and they are as helpful as they ever were in Windows.....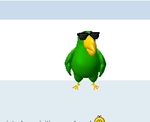 The helpers may come in different shapes and forms depending on their work rotation schedule.. you will probably recognize many of them....
You will need to allow this site in your script blockers to see them.
...And if they get in your way; just drag them to a more suitable place.