Debian has past Centos as the most popular Linux webserver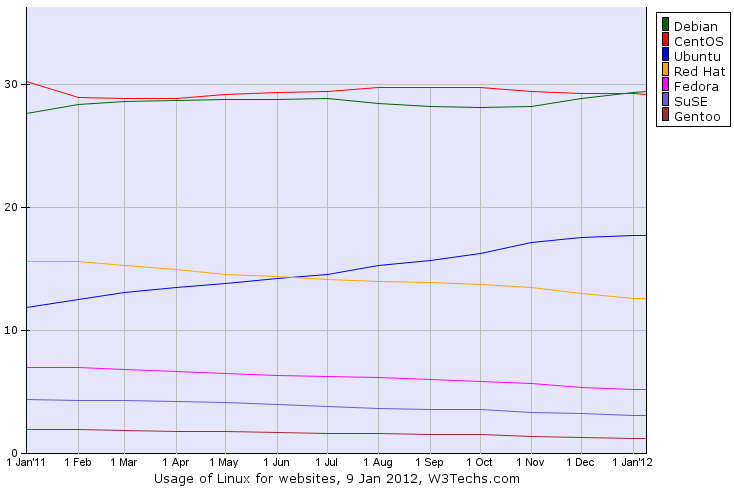 This does compute with my very unscientific setup of a LAMP server (with phpmyadmin), where the criteria was to set it up without to much scratching of the head. Also it was part of the test to simply give up and move on to the next distro until I had one lamp server working (The lazy method).
To my great surprise that was Debian
Given the problems of Fedora and the many problem descriptions in the Centos forum I get the impression that the RPM distros are on the defensive these days. It might be due to the implementation of
systemd
that is rather new.
And Centos does install nicely if you
skip the lazy method and RTFM
And there is always
Cpanel
and Redhat so this is surprising, at least for the professional market. Debians rise is mostly due to the increase in Europe.
Looking at the geographical distribution of Debian sites, we see that Debian is extremely popular in Europe: Germany 39.7% of all sites, Poland 36.1%, France 33.6%, Russia 26.4%, and much less popular in Asia: Japan 1.9%, India 1.8%, China 0.5%. Debian usage is also below average in USA and Canada.
Just to be clear: Both of these distros are among the very best server distros, so you simply should take what works for you - you will not be doing much wrong with any of them.
These preferences do change fast so it will be interesting to se the statistics for 2012 which should be ready soon....